Check out the Junior High students' February/March issue of Bear Country News!🐻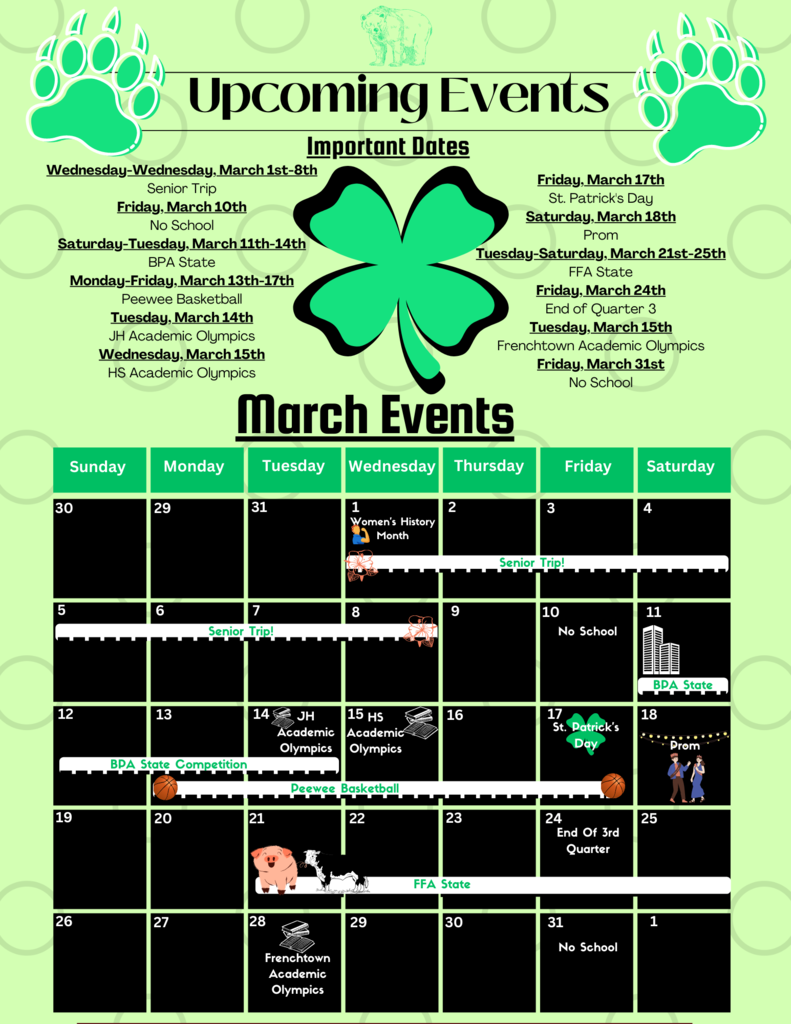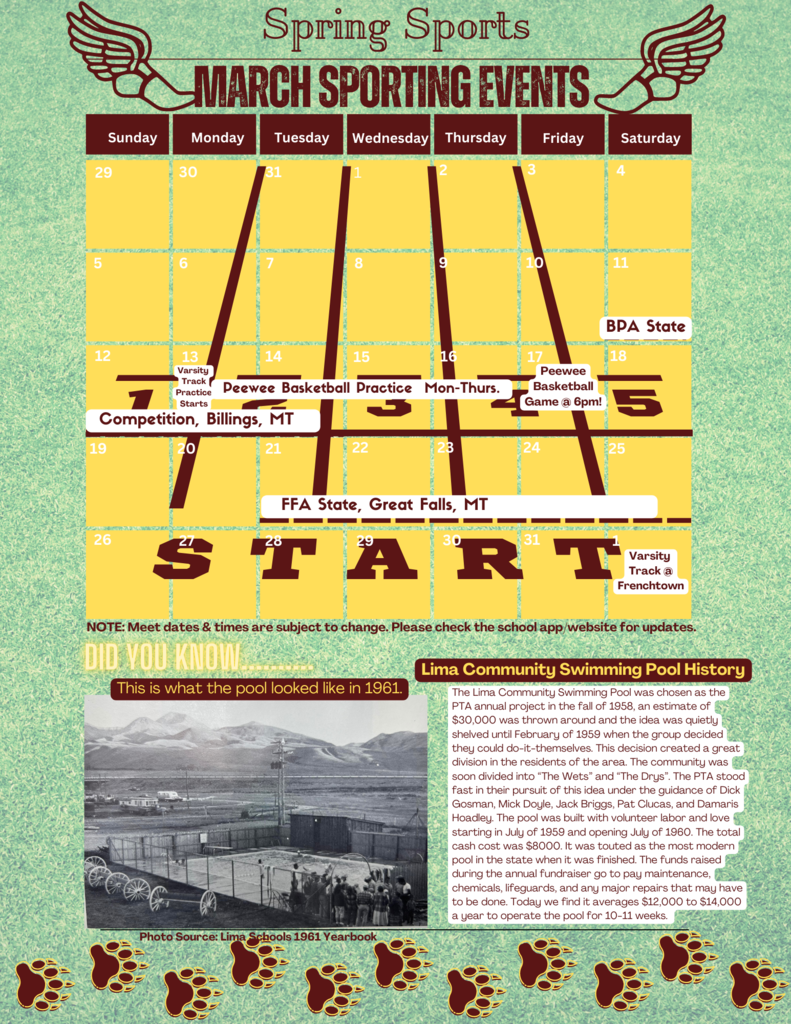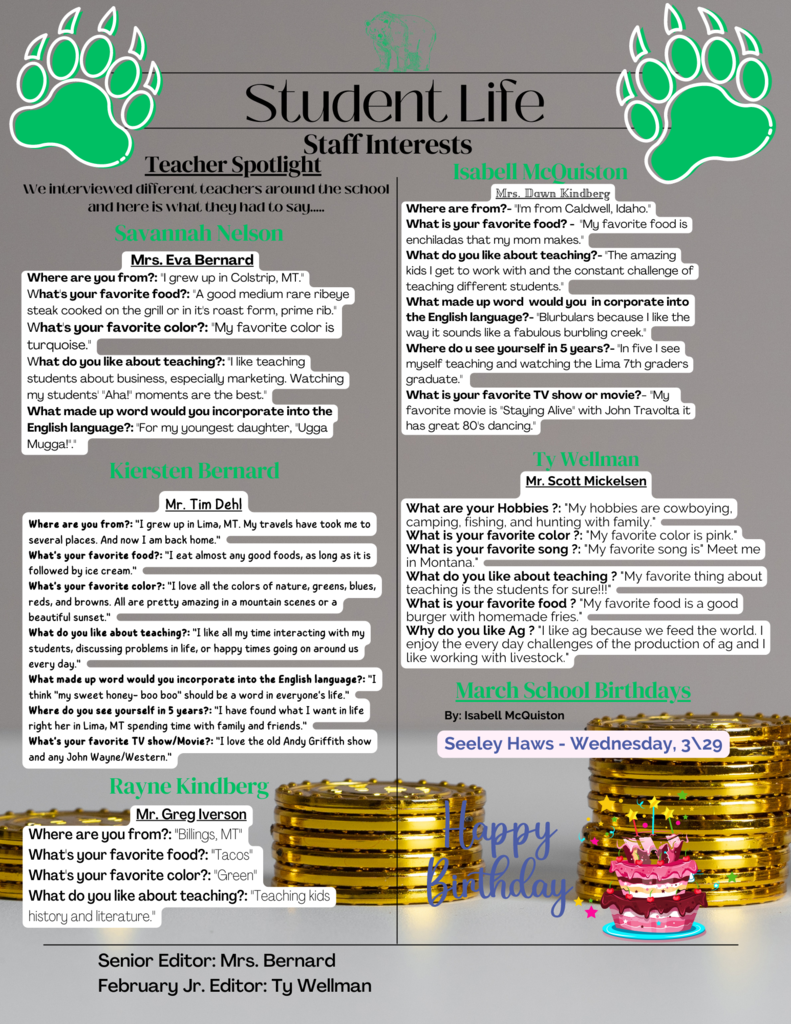 Reminder...PEE WEE Basketball starts on Monday. Check your child's bag for the handout!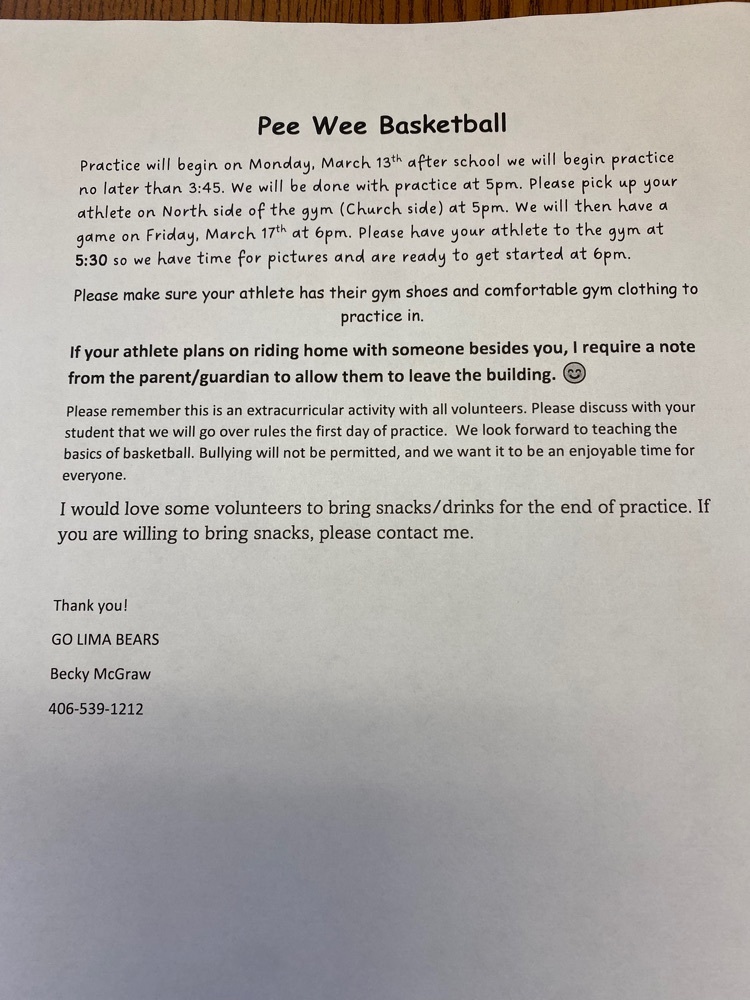 Hello Lima Families, Please review the letter attached to this link. It has important information about the upcoming school board meeting. Thank you!
https://5il.co/1qjpb
Today is the last day to purchase your tickets for our HS BPA Club Montana basket raffle. Our club will be drawing the winning ticket during lunch. A huge thank you to all the businesses that donated items.👩‍💼👨‍💼📇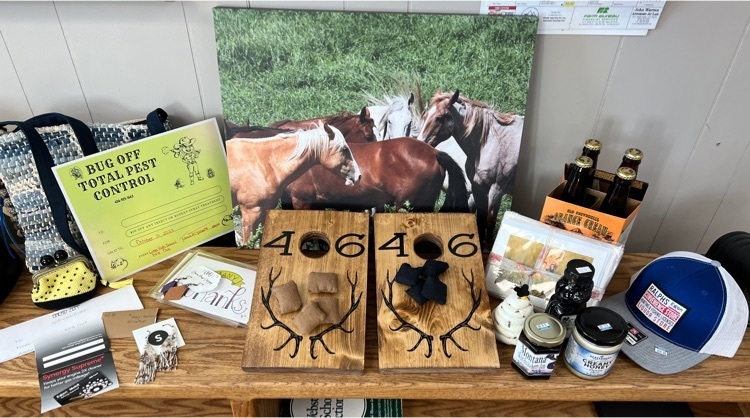 Don't forget to purchase your tickets for the HS BPA Club "Montana Basket" raffle. Our club will be drawing the winning ticket on Thursday during lunch. A huge thank you to all of our basket sponsors!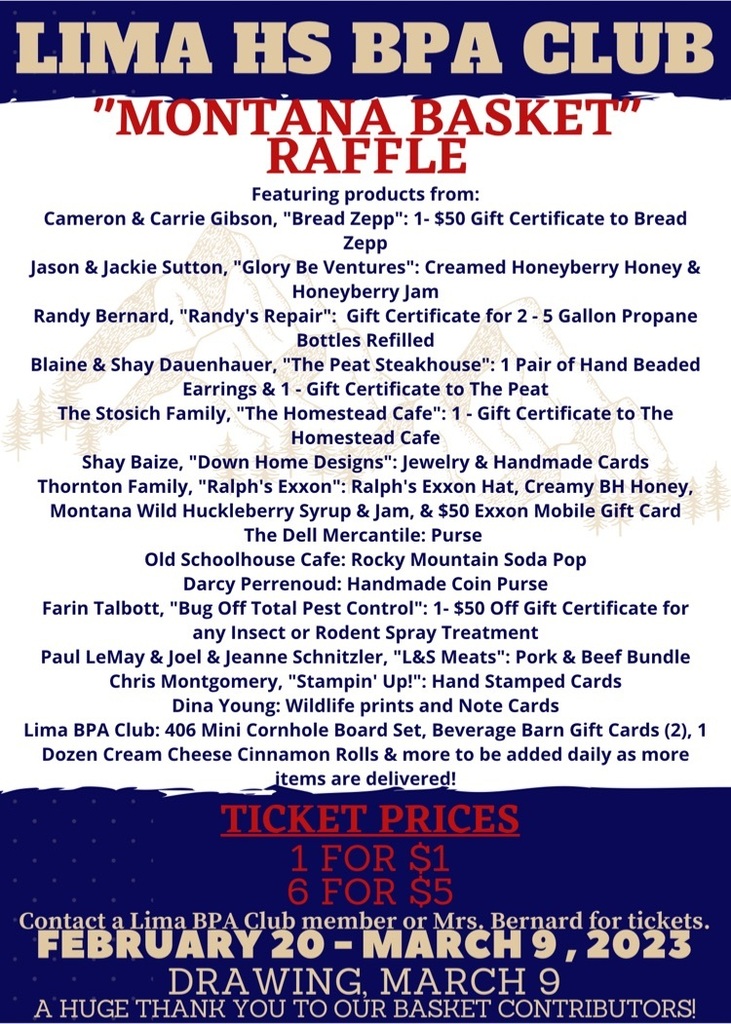 Today's Read Across America adventure Fox in Socks Keegan Bailey has the best socks around!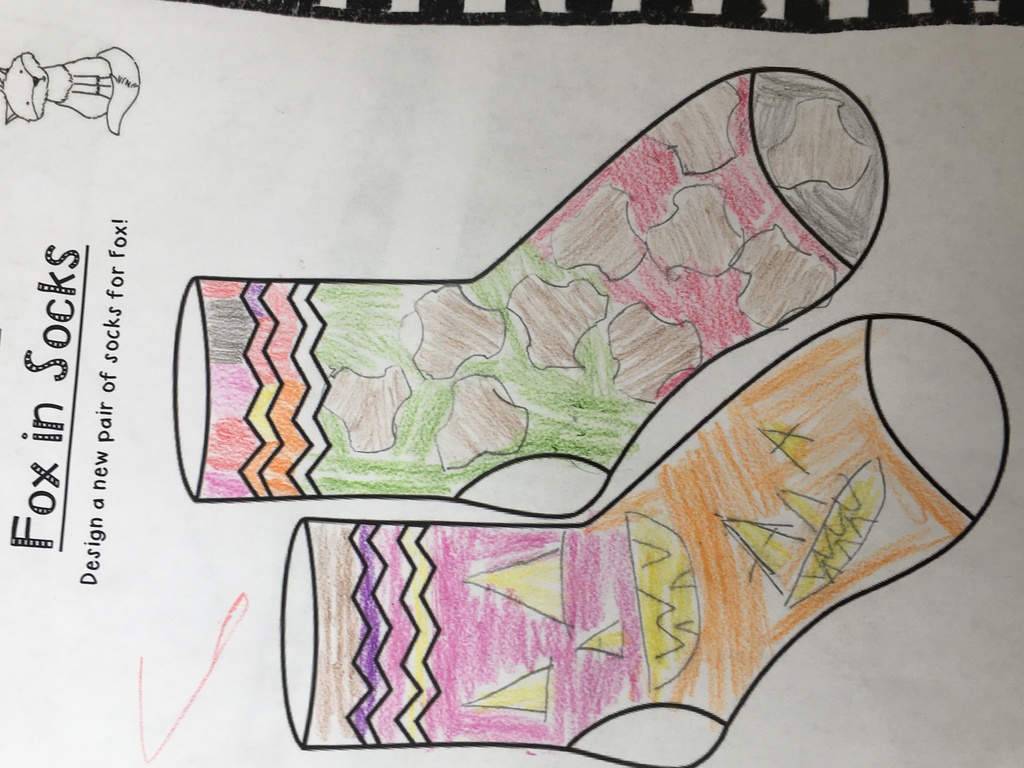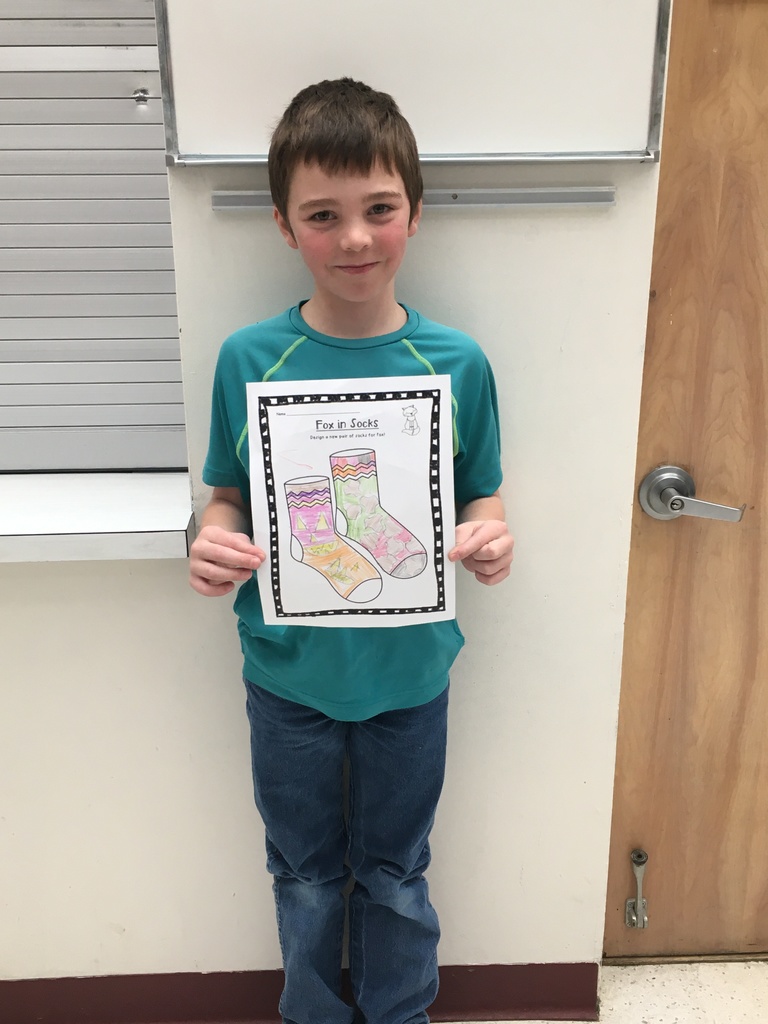 Read Across America Week March 2nd is Dr. Seuss's Birthday Haylee Kellogg designed the winning Happy Birthday cake today. Everyone did an amazing job but this one seemed the most Dr. Seussish! Happy Reading Everyone!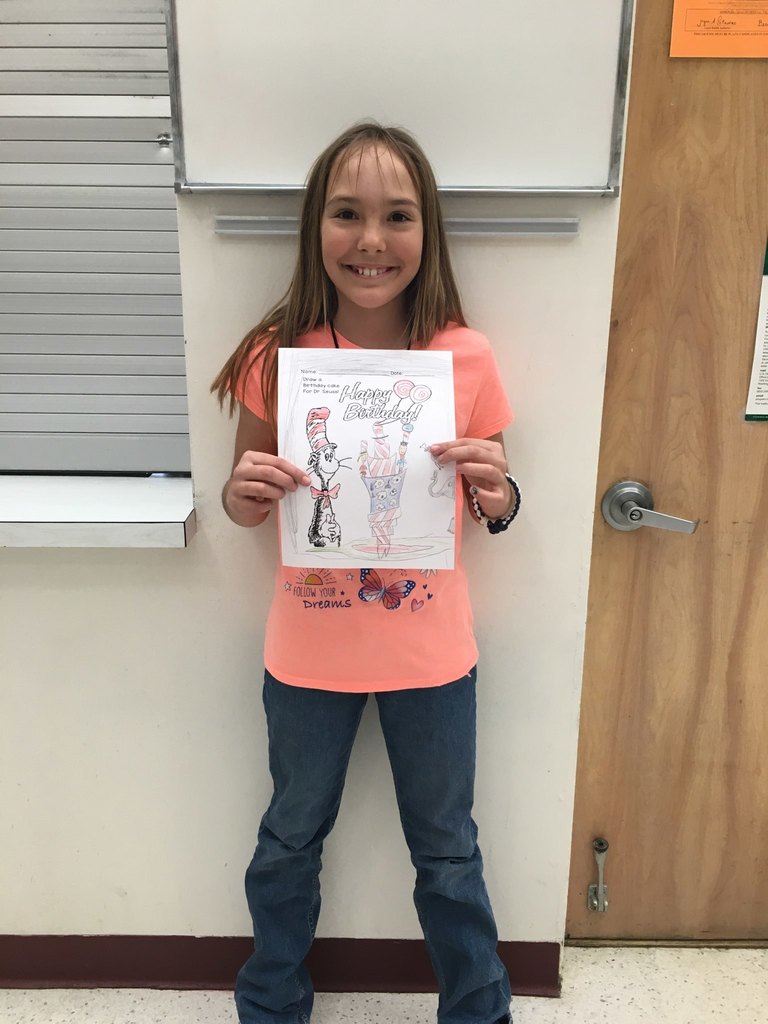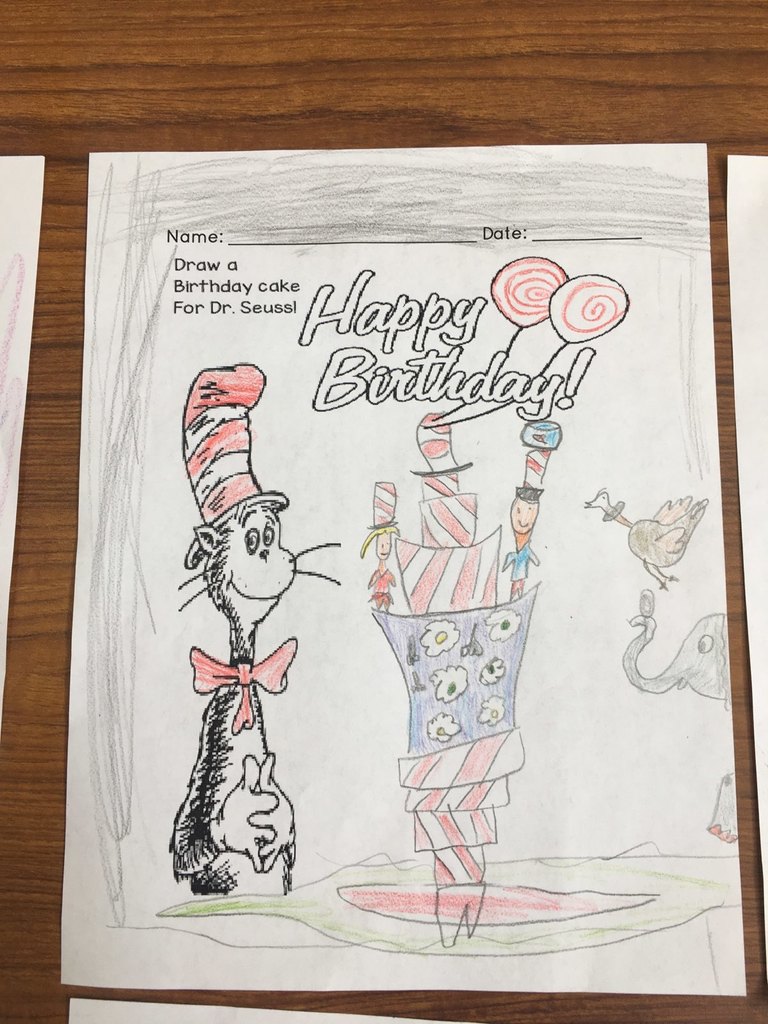 Celebrating Read Across America Week "Cat in the Hat" Wednesday Stay Tuned Tomorrow is Dr. Seuss's Birthday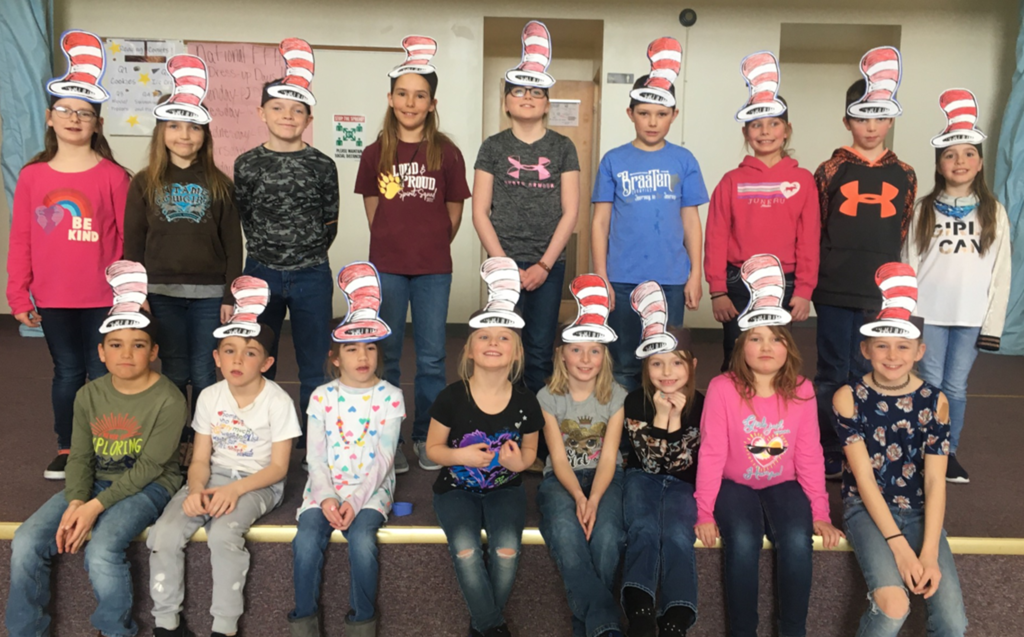 READ ACROSS AMERICA WEEK March 2-6 Happy Birthday Dr. Seuss!!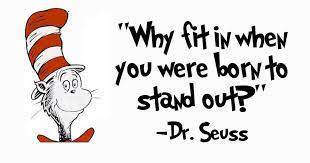 Hello Lima Parents, Today is the dress rehearsal for Missoula Children's Theater. All performers will be here until 5:00pm tonight. The raccoons will be released at that time and the remainder of the cast will be released at 6:15pm. Due to the different release time we need parents to pick up students today. The bus will run at 3:30 for students not in the play. Please call the school if you have any questions. Thank you!

Join us Saturday, February 25th, for a free presentation of Missoula Children's Theater "Red Riding Hood." There will be two showings, one at 3:00 and the second at 7:00. Come support our students as they get their drama on!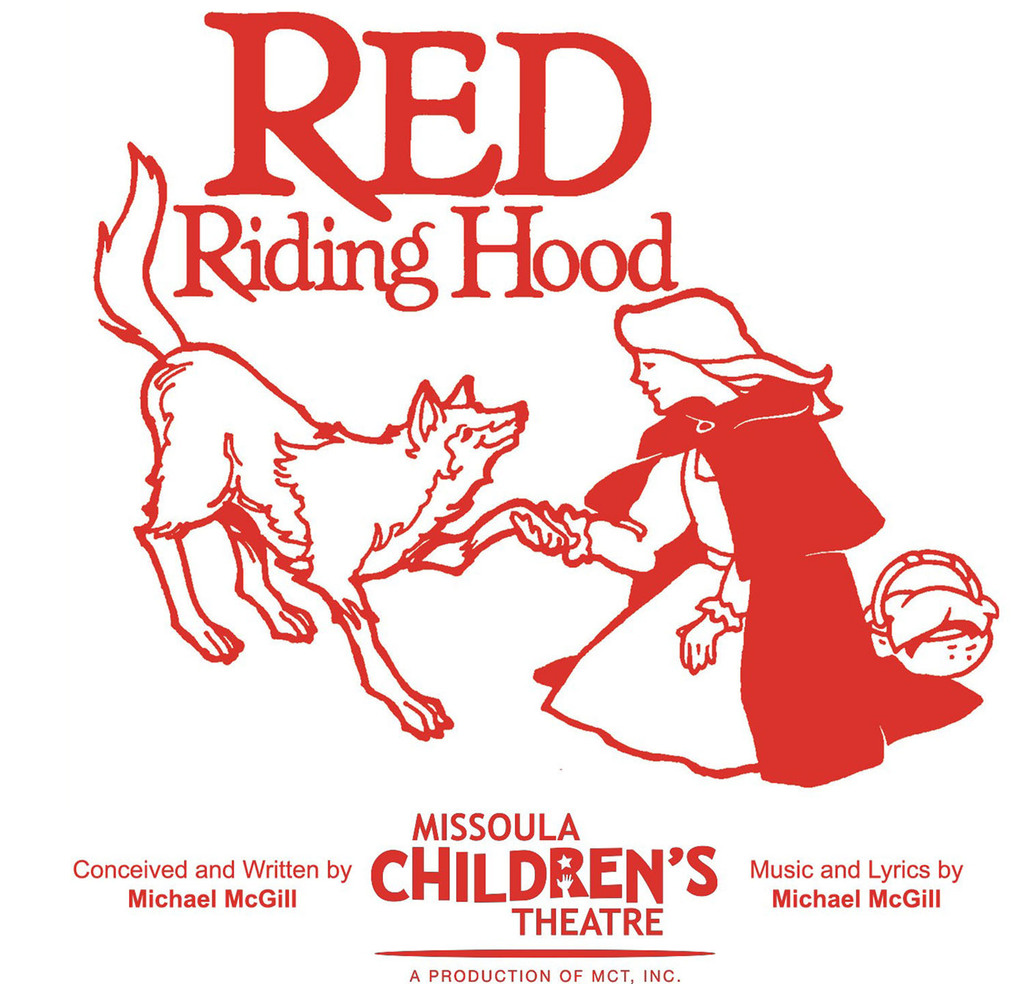 Hello Parents, If you are wanting to purchase a Missoula Children's Theater shirt for your child, the directors will be taking orders this evening. The cost is $16 per shirt, and they can only take credit card. They will be accepting payment Thursday evening at the 4:00 and 6:15 pickup times. Thank you!
It is that time of year for the HS BPA Club's annual "Montana Basket" raffle. Items featured in this year's basket were donated by different business owners in our area and from around the state. Donations are being added daily as businesses are still in the process of submitting donations. Tickets are 1 for $1 or 6 for $5 and are being sold by our BPA Club members. There will also be tickets at the school office. All proceeds will help send our members to State and hopefully Nationals. Our club will draw the winning ticket at 12:30pm on Thursday, March 9. A huge thank you to all of our sponsors!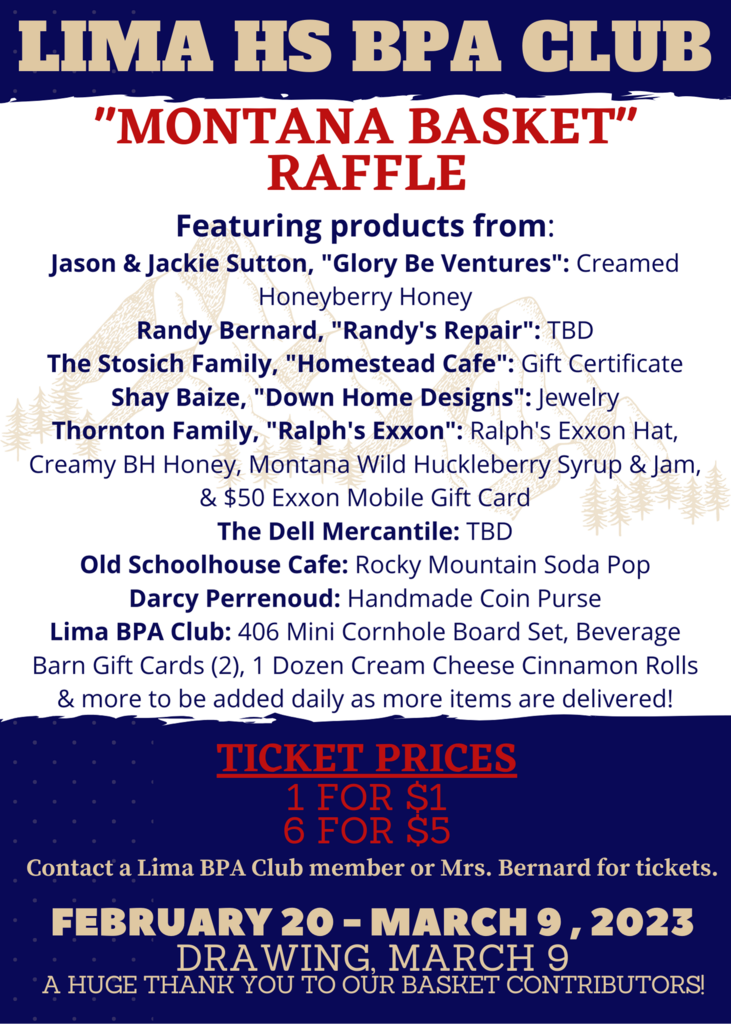 Happy 100th day of School!!!! The elementary students dressed as 100 year olds today.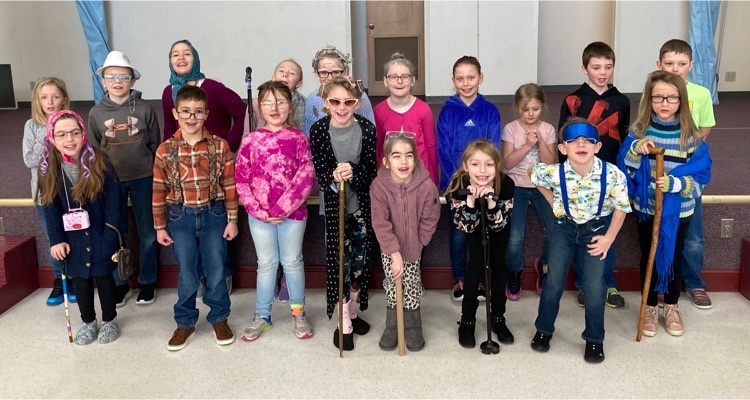 **Reminder** Lima High School Basketball will have senior night on Saturday, February 11th. The boy's game starts at 4:00 and the girl's game at 5:30. Our senior night presentations will be between games. Come Support Taryn, Kyrah, JP, Zane, and Spencer as they play their last home game as a Lima Bear.

Hello we will be putting together a care package for the basketball players and coaches for the district tournament and play in game starting next Wednesday the 15th. If you would like to contribute please drop items off at the office by Tuesday morning. Thank you everyone for supporting your Lima Bears through the Basketball season!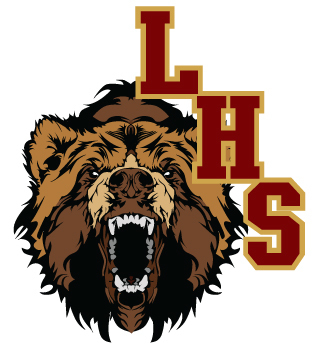 LIMA SCHOOL DISTRICT #12 will be accepting applications for the following position: Track and Field Coach Complete job description and application are available at the Lima School office or by contacting Brian Rayburn at (406) 276-3571. This position will focus on the running and jumping events in Track and Field. The position is open until filled. The season runs from March 13th through the middle of May. Lima School District #12 is an Equal Opportunity Employer.

The Lima Elementary Art Program Has a New Look! With a generous grant from the Montana Arts Council, the Lima Elementary will now get to enjoy a state of the art and fully stocked "Art Cart"! We are excited to utilize this cart to engage our elementary art students in an art program that will encourage their creativity and produce beautiful works of art. #montanaartscouncil