Attention Lima Community!! The Lima High School and Middle School Athletic Programs are looking for volunteers to help with home games. We need to have a list of volunteers we can call on for the following positions: 1. Football Chain Gang 2. Football Clock Operator 3. Volleyball Line Judges 4. Volleyball Clock Operator 5. Any other odds and ends that might come along! Please contact Mr. Rayburn or Mrs. Sutton at the school office if you are interested in helping in one of these areas. Thank you and Go Bears!

What: Parent and Student Meeting for all students participating in Football, Volleyball, Cross Country, and FFA When: Wednesday, August 10th @ 6:30pm Where: Lima School Multipurpose Room

***Please note change of Date*** NOTICE OF BUDGET MEETING Lima School District #12 1 North Harrison Lima, MT 59739 The Board of Trustees of Lima School District #12 will hold a budget meeting in the Lima School Multipurpose Room on August 9, 2022 at 7:00 pm. The Board will meet for the purpose of considering and adopting the final budget of the district, and may be continued from day to day until the final adoption of the district budget has been approved. Any taxpayer in the district may appear at the meeting and be heard for or against any part of the budget. The regular August meeting will be held on this date as well.

Parents, Please follow the link to download the Physical Forms for fall sports. These physicals are needed for middle and high school participation and must be completed prior to the first practice.
https://5il.co/1dnbm

Thank you C/S Electric-Chris and Marilyn Smith for the amazing help getting the electrical box safely fixed and upgraded at the Lima Community Swimming Pool. Without your talents and generosity we would not have gotten the pool ready to open in time for the scheduled swimming lessons and opening. And if that wasn't enough the donation of your time and the necessary pieces to complete the job were so appreciatted and beyond the call of duty. Thank you Chris for being so thoughtful, generous, and kind the community swimming pool and the kids can't express our thanks enough.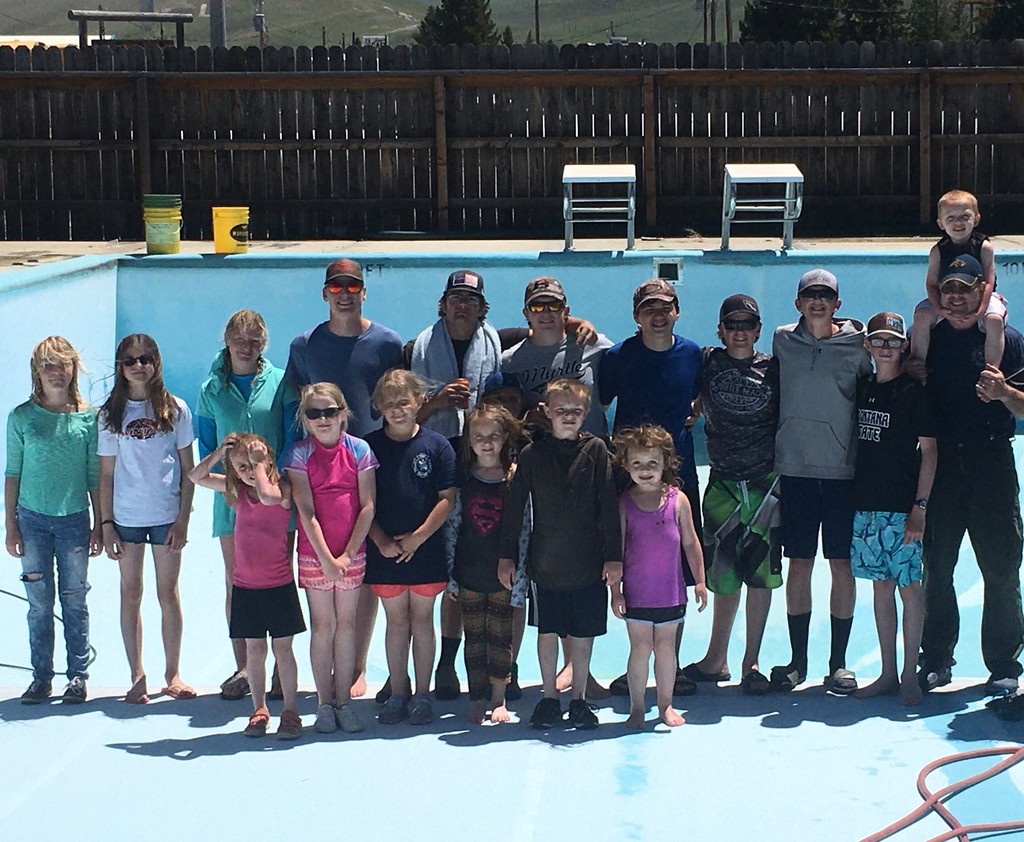 We have met our quota of required Fitness Memberships for the pool. If you would like to join us on Monday-Wednesday-Friday from 6-7 pm we will have a dedicated hour of pool time. We will continue to sell $50 Membership Fees to those who would like to participate in this situation. Thank you everyone who stepped up to get this program off the ground....

We need 4 more confirmed Fitness Memberships to get to our goal. Would you like to be have a dedicated time to pursue your fitness goals in the Lima Community Pool. This time will be reserved only for fitness activities. Fitness/Conditioning/Lap Swim Monday/Wednesday/Friday Starting July 6th, 2022 6:00 to 7:00 PM $50 Pre-Paid Membership Fee This allows us to cover additional costs associated with this program. Lifeguards, Chemical, Propane.... On fitness nights the lifeguard will close the pool if no one is actively participating by 6:20 PM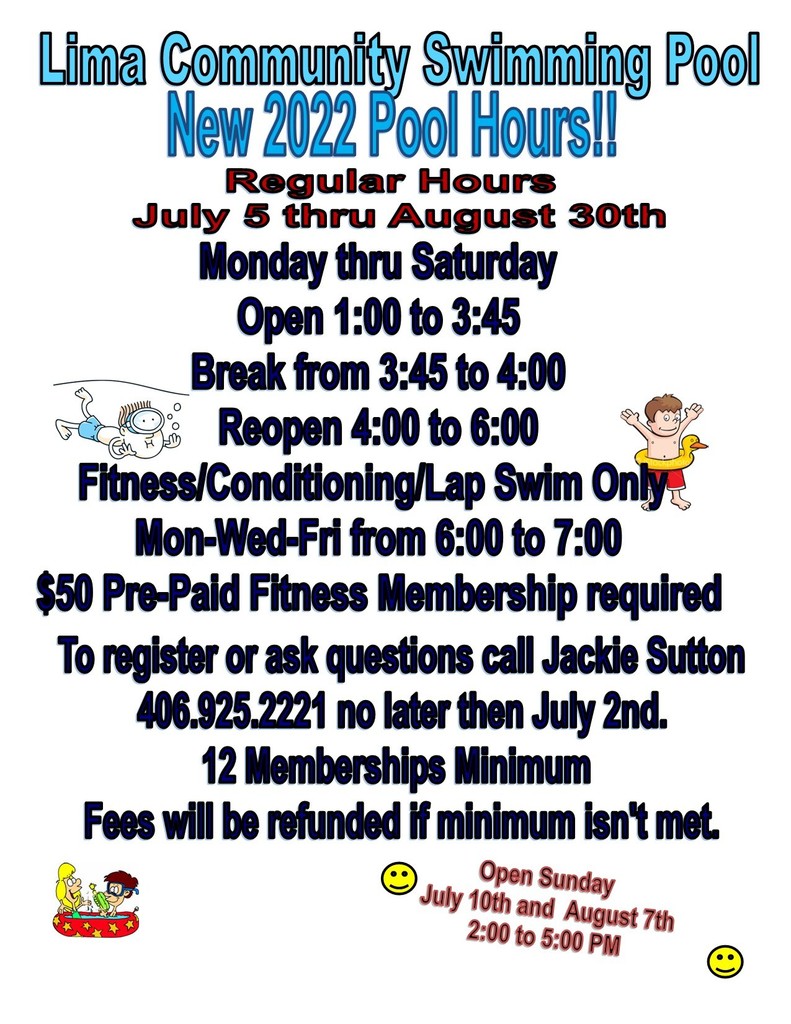 New Pool Hours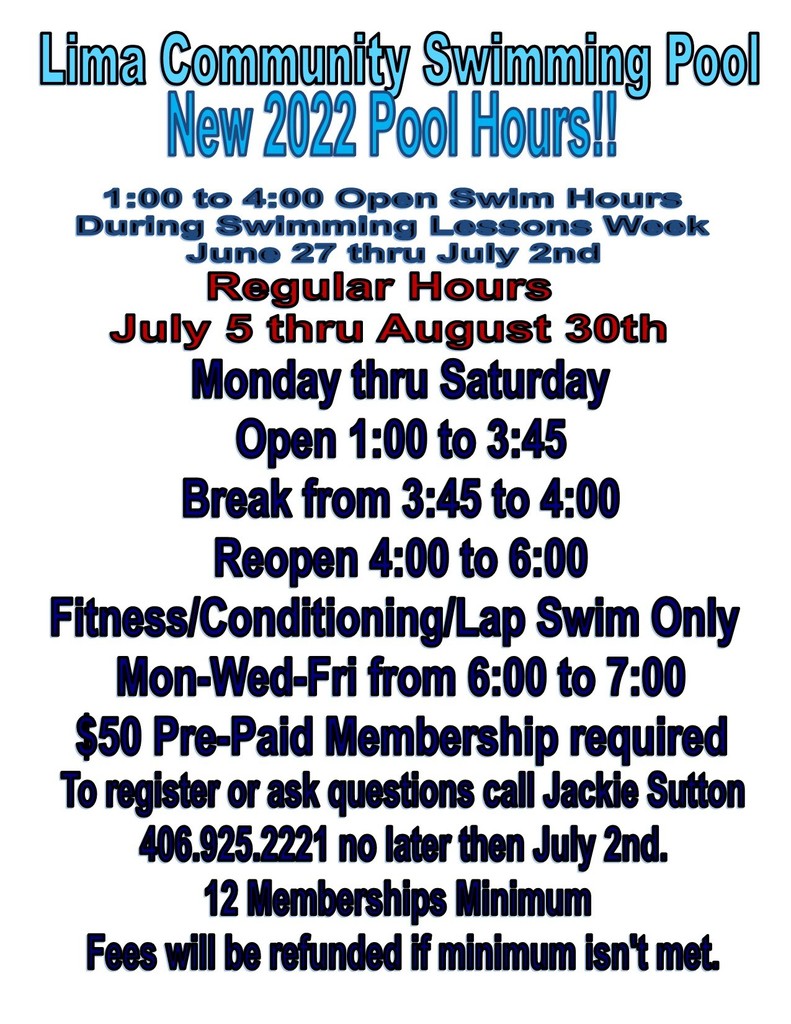 Lima 4th of July Celebration Thank you to the Homestead Cafe for generously donateing the Hamburgers, Hot Dogs, and Buns for the BBQ!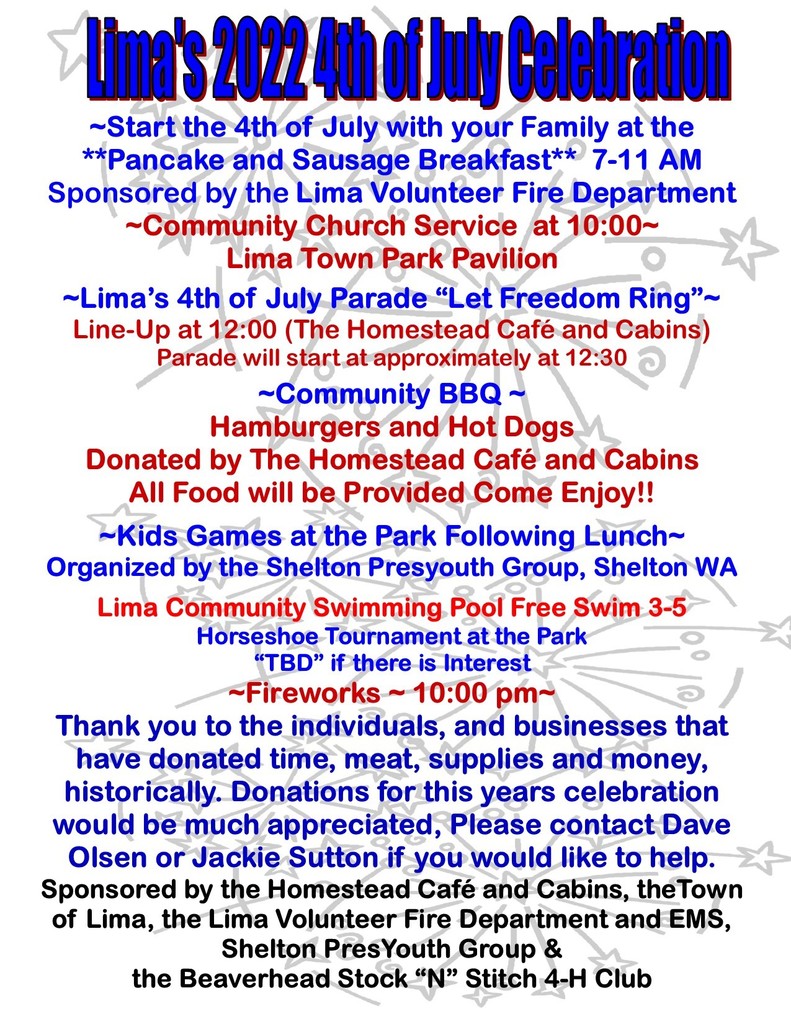 Swimming Lessons July 27th thru July 2nd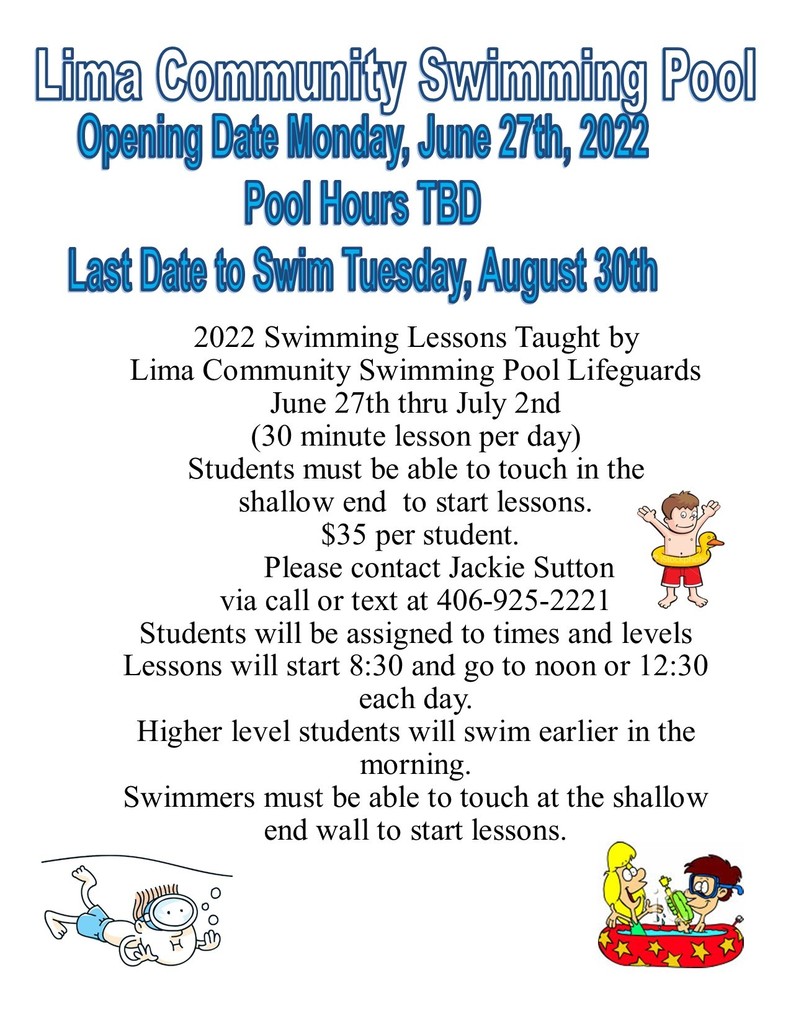 2022 4th of July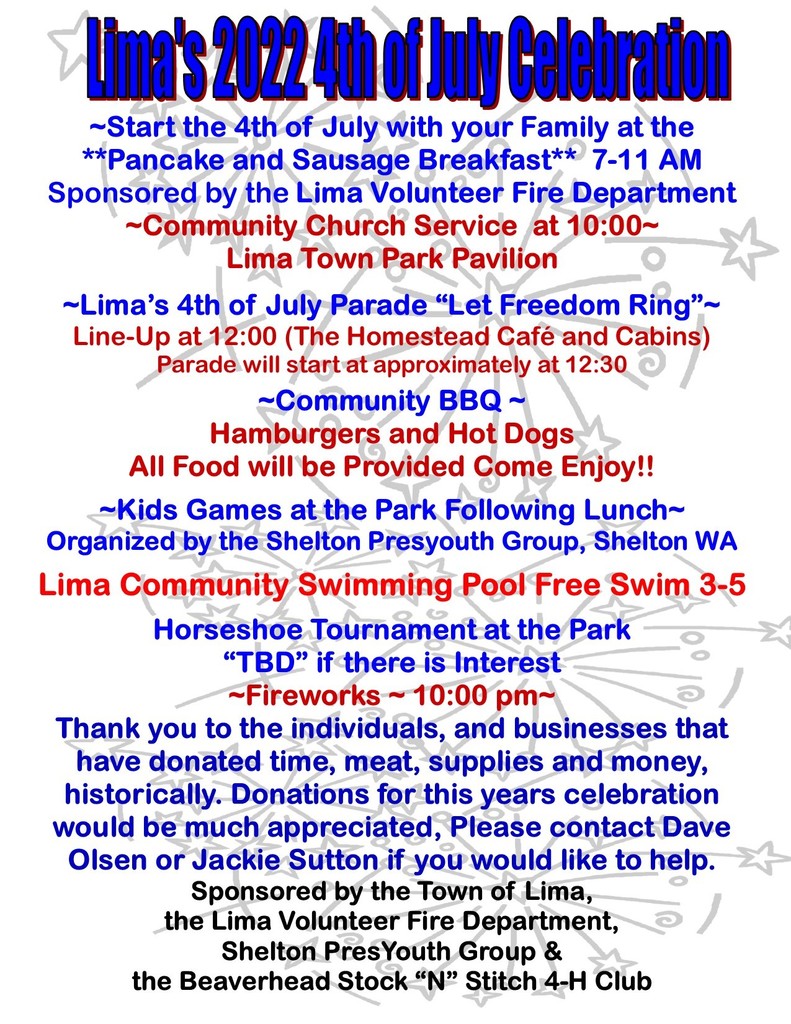 Thank you for your support for the Lima Community Swimming Pool. Our 2022 Summer Block Party was held June 11th. We had 12 live auction items and a beautiful array of silent auction items. We so appreciate our donors and especially want to thank our local businesses for their support. We are so very blessed to live in this community. Thank you Mr. and Mrs. Kodie Bernard for sharing their talents in cooking the pulled pork, thank you Mr. and Mrs. Heath Martinell, Katelynn Sutton, and Nathan Sutton for donating the meat. We can never express how much we appreciate Mr. Blake Nuffer for sharing his auctioneering talents with our community especially when it comes to our young people. And a big thank you Mr. Dale Stewart for doing what he does best in keeping the atmosphere light and enjoyable for the evening. The 4-H kids helped with games and we only lost a few ducks during the night. (Hard to keep those contained but they do not survive the lawnmower so well.) We are celebrating 62 years of having a Community Swimming Pool in Lima. The swimming pool gives the youth of Lima and the surrounding area the opportunity to learn water safety skills, and gives them a safe place to gather during the summer months. The swimming pool also allows us the opportunity to train and employ some of our young people as lifeguards, giving them marketable life skills they can take and use in their future employment opportunities. Our young people are our greatest asset. Thank you for helping us to continue to develop them into caring responsible adults. The swimming pool is a sparkling 30 by 60 foot tribute to what people can do when we set their minds to something and are unified in their desire to provide something of value for our young people.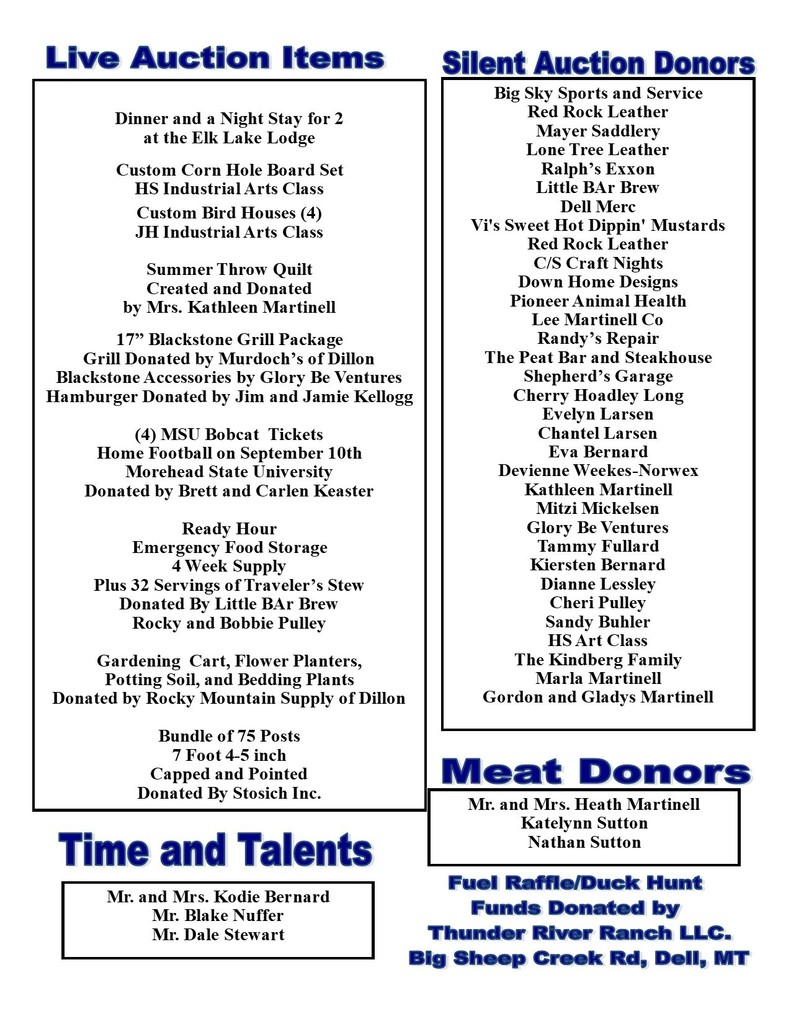 The library will be open every WEDNESDAY from 10:00 until 4:00!! Starting today June 22nd!! Come start a new adventure, travel in time, train a dragon, the opportunities are endless.... Open a BOOK... The north door to the high school will be open during this time frame. Thank you Mrs. Martinell for making the library available.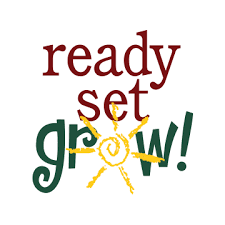 The Lima Community Swimming Pool Summer Block Party is Saturday Evening June 11th, at the Lima School! Come enjoy some great Smoked Pulled Pork (Thank you to our cooks Mr. and Mrs. Kodie Bernard) and bid on some great items in our Silent and Live Auctions. We are happy to highlight our local sponsors and businesses. Don't miss out on the beautiful pieces donated by our HS and JH Industrial Arts classes (Thank you Mr. Pulley), and the HS Art class (Thank you Mrs. Baize). We have some beautiful stained glass, some clay bowls, and a drawing or two. Thank you so much for your support!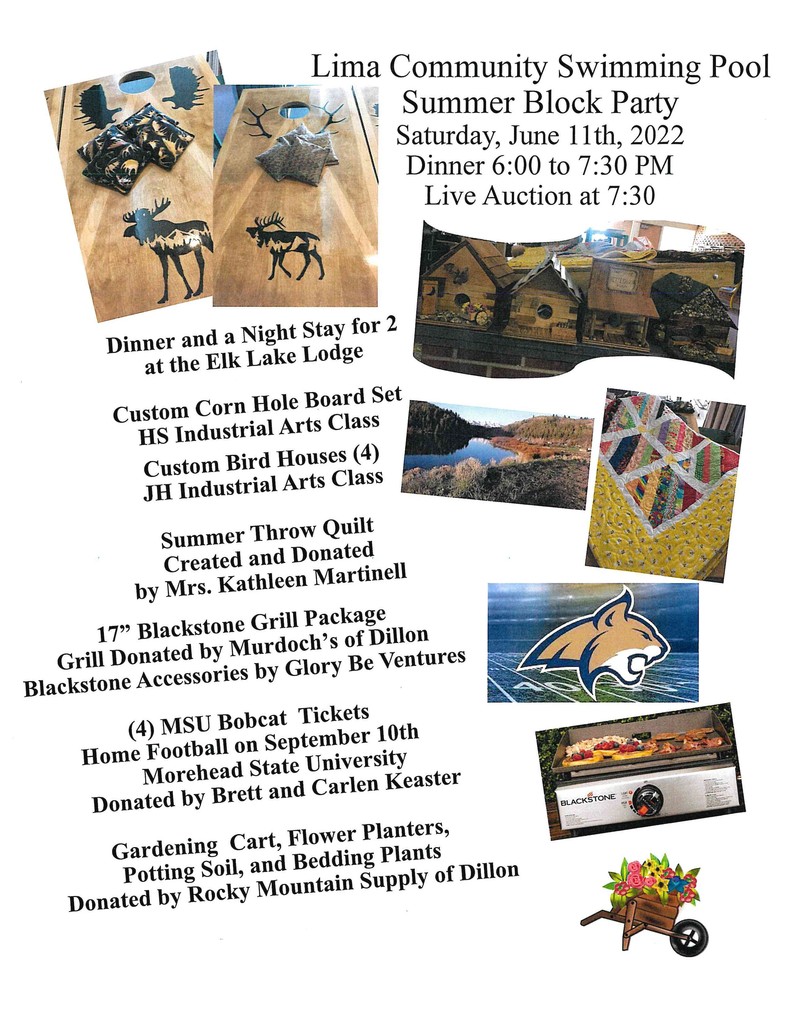 Gopherfest is sneaking around the corner!!! The Lima Community Swimming Pool is so grateful for the Thornton and Stosich families and their faithful support of this event and the pool....

Please join the Centennial Valley Association, Beaverhead Watershed Committee & Conservation District, Big Hole Watershed Committee, Madison Valley Ranchlands Group, Ruby Habitat Foundation, Ruby Valley Watershed Council and Conservation District, and Lima School for an evening of learning and fun! Jeff Warren, of the US Fish & Wildlife Service, will be coming to Lima School on Wednesday, June 8th to share information on the lesser scaup duck with the community! This is a family friendly event. A free community dinner will begin at 6pm, with the presentation to follow at 7pm. More information can be found in the attachment, but please do not hesitate to reach out if you have any questions.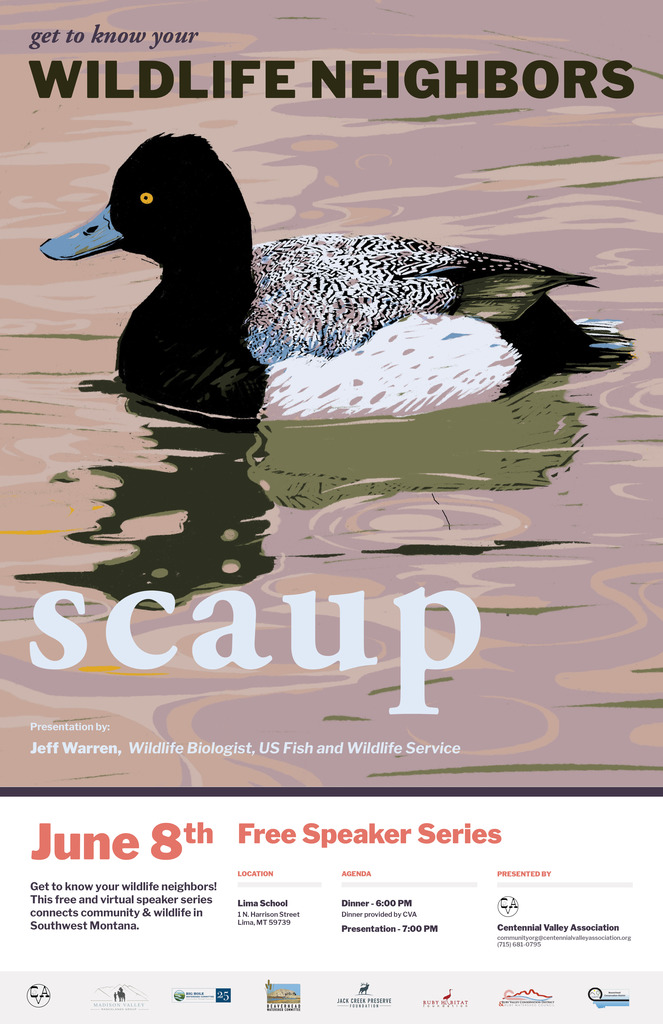 Attention, the school weight room will be closed for maintenance for the next couple of weeks. Sorry for any inconvenience this may cause.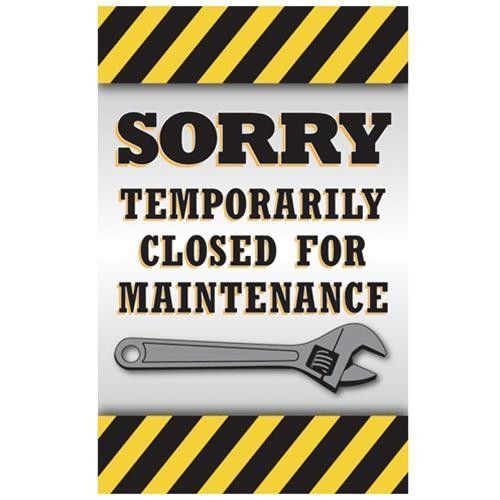 The Freshman Class still has some hanging flower baskets available for $12 apiece. Contact the school office or your favorite one and only Freshman for details and to arrange a pick up!! Happy Spring

Easter Egg Hunt Today at 1:00 Lima Town Park Preschool thru 6th grade Don't Be Late It Happens Quick!!

PT Conferences Thursday, March 31st 3:00 to 7:00 Please Remember Early Out at 2:30 No School on Friday